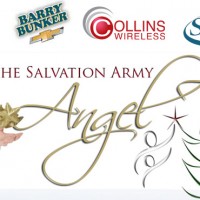 You have the power to make sure a child in need gets Christmas this year. Join Star 106.9, Indiana Wesleyan University, Barry Bunker Chevrolet, & The Collins Group – and be a part of the Salvation Army Angel Tree in Marion.
You'll see the Angel Trees at Star 106.9, TJ Maxx, Collins Wireless, Five Points Mall, Five Star Salon and Barbershop, Kids Kraze, and at the Salvation Army in Marion, and also at the Fairmount Police Department.
Each tree is covered in tags with the age and gender of a child in need this Christmas season, with the emphasis on new clothing first, (sizes provided), and maybe a toy or two.