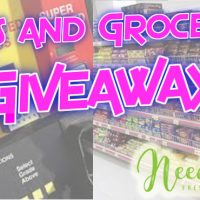 What are your biggest budget busters? Gas & groceries? Star 106.9, McClure Oil Corporation, and Needler's Fresh Market are going to pick up the tab this fall. Listen each weekday for your chance to call in with Vanessa or Amanda to get qualified for either a $50 McClure Oil Corporation gift card or $50 Needler's Fresh Market gift card. Then listen Fridays at 4:35 PM (ET) for your name to be called. Call us back within 10 minutes and you win! And once you're registered – you're registered throughout the whole promotion.
You can register once for the gas card, and once for the grocery card. No purchase necessary. Star 106.9 Contest Rules apply.
And save the Star 106.9 studio hotline number in your contacts, so you're ready to qualify & win: 1 (800)765-1069.