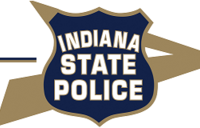 This morning at approximately 4:08 a.m., officers from the Indiana State Police and the Grant County Sheriff's Department responded to a single vehicle crash on I-69 near the 264 mile marker, in which two people were injured.
The preliminary crash investigation by Senior Trooper A.J. Coffee revealed that Jacob Thiessen, 59, Leamington, Ontario was driving a 2000 International semi-tractor, pulling a box cargo trailer, southbound on I-69 near the 264 mile marker. For an undetermined reason, the International drove into the grass median, into a ditch, before crashing into an earth embankment.
Thiessen was flown via medical helicopter to a Ft. Wayne Hospital. He was suffering from serious injuries. Katharina Thiessen, 50, Leamington, Ontario, a passenger in the semi-tractor, was transported by ambulance, to Marion General Hospital. She had a complaint of pain.
This is an ongoing investigation but at this time neither the use of alcohol nor narcotics is suspected as being a contributing factor in the crash.
Senior Trooper Coffee was assisted by Master Trooper Eric Treon, the Grant County Sheriff's Department, and the Upland Fire Department.