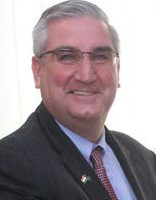 Today Gov. Holcomb will host a ceremonial signing of a sepsis bill and a public safety contract negotiation bill authored by State Rep. Kevin Mahan.
The sepsis bill establishes the Sepsis Treatment Protocol Task Force.
Sepsis is the leading cause of death in hospitals, and without early treatment, can cause organ failure, tissue damage and death, according to the National Institute of General Medical Sciences
The Task Force will require hospitals to implement evidence-based sepsis guidelines for the early recognition and treatment for sepsis patients.
At the same ceremony Gov. Holcomb will also sign a public safety officer contract negotiation bill.
The house bill requires counties, cities, towns or townships to submit to a non-binding mediation if they fail to agree to a new contract agreement within one year of the previous agreement expiration.