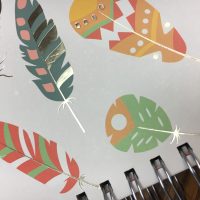 I just got a new planner. But not for work. It's my new weekly goal planner, and each day has something I'm looking forward to this week – and I'm obsessed with checking it all the time! It also has a spot for 'daily routines,' like biking 2 miles (every day!), and drinking 64oz. water (I mostly fail!).
Today, school supply shopping. It's one of my favorite times of year. Sure, we get stuff for the kids, but we also get things for home organization. Stickers, maybe some new pretty folders to organize my personal paperwork…
Tomorrow, my husband & I are celebrating our 14th wedding anniversary. And yes, we'll be celebrating at Rock The Way with the United Way of Grant County. It's a work event to start the evening, but once Unspoken starts playing, it's all fun.
Wednesday, um, we'll leave that as an evening of rest.
Thursday, Concerts at the Fountain in Greentown. I LOVE free concerts, and I don't care if I'm familiar with who's playing.
Friday, I'm looking forward to going out to dinner with my family.
Saturday, I'm trying to fit in the beach again. Either at Mississinewa, or Warren Dunes (in MI).
Sunday, it's church, and I'm already looking forward to that.
I've found that having something to look forward to every day makes every day a good day and that looking back on my planner, I am filled with more gratitude. I'm also finding that I can find time to do what makes me happy. I just have to plan it.