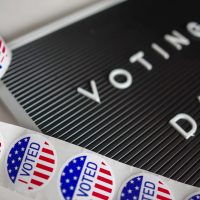 Indiana is planning a series of events next year to mark the centennial of women's right to vote.
Lieutenant Governor Suzanne Crouch is chairing a commission to coordinate commemorations of the 100th anniversary. She says the commission plans to hold events throughout the year, ranging from educational events to celebrations.
One idea Crouch says the panel is thinking about: a reenactment at the statehouse on the anniversary of the vote to ratify the 19th Amendment on January 16. Indiana was the 26th state to approve the amendment — it took another seven months to get the required 10 additional state approvals to make it part of the Constitution.
Three months after the amendment was ratified, Delaware County Republican Julia Nelson became the first woman elected to the General Assembly, as a last-minute replacement for a state representative who died three days before the election. At least one woman has served in the legislature in every session since.
Indiana played a supporting role in the national fight over women's right to vote. Indianapolis Republican George Washington Julian was one of the first members of Congress to introduce a women's suffrage amendment, in 1869. It never came to a vote, and Julian lost his bid for renomination the following year. The amendment successfully ratified a half-century later had been drafted by Susan B. Anthony in 1878.
14 states had already granted women the right to vote by the time the amendment was approved. Indiana was one of an additional 13 states to pass a law letting women vote for president. All but one of those 13 states passed the law after the 1916 election — by the time the 1920 election arrived, the 19th Amendment had given women the right to vote for all offices.