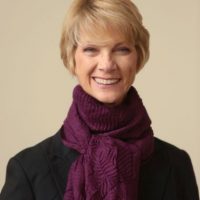 UPLAND — A dedication service for the Interim Presidency of Paige Comstock Cunningham, Ph.D., J.D., will be held at 10 a.m., Monday, Sept. 30, in the Rediger Chapel/Auditorium on the Taylor University campus.
Cunningham, a 17-year member of the Board of Trustees, and most recently its Chair, assumed her presidential role on August 18. She is expected to serve at least through the 2019-2020 academic year, and under the Board's leadership, will be responsible for fulfilling Taylor's mission and vision.
Cunningham most recently served as the Executive Director of The Center for Bioethics and Human Dignity and as an affiliate professor at Trinity Law School and Trinity Graduate School. She was an adjunct instructor at Wheaton College for eight years and serves on the Advisory Board of the Wheaton College Center for Faith, Politics and Economics. Earlier in her career, she was Executive Director and General Counsel and later President of Americans United for Life, a national pro-life advocacy organization located in Washington, D.C. Cunningham and her husband Jay (both 1977 Taylor graduates) have three children and seven grandchildren.
In addition to the dedication service, an open house reception will be held from 2:00-4:00 pm, at the Muselman House presidential residence.