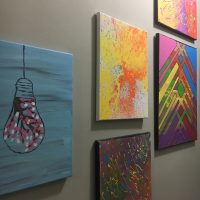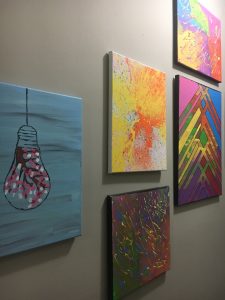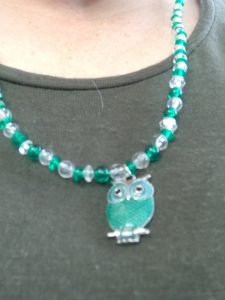 Every now and again, it's good to do something you've never done before. Carey Services' Expressions: A Community Art Experience is the perfect opportunity for you. It's free. It's casual (jeans & flip-flops!). Free appetizers and cash bar… It's Saturday, October 5th at Carey Services in Marion.
I'm passionate about a few things, and one of those things is Carey Services' Creative Hearts Studio. It's inside the main Marion campus of Carey Services. If you have an opportunity to see it (ahem – 10/5) you have to go! You'll hear music and laughter, conversation and collaboration.
What you'll see is something you've never seen before. Painting, drawing, embroidery, sewing, and all of the cool, creative adaptive ways the artists are accomplishing their unique pieces. For some, it may be a special embroidery hoop brace so they can work the needle despite their mobility challenges. It may be a modification on a sewing machine to aid feeding the project through the needle. It may be a unique easel-like structure to help with painting.
AND you'll see the amazing works they're all creating. Mixed-media, avant garde techniques, unusual materials, collaborative pieces. Some pieces bring joy, some speak to your inner child, some may move you to tears – and when you add in that the artwork is one way the artists can express themselves, when in some cases, they cannot do so verbally – it's the most wonderful art you've seen. For some, it's a revenue stream. For all, it's another way to share their feelings & connect with others.
My family & I go every year. We look at all of the pieces, bid in the silent auction, buy pieces to add to our Creative Hearts gallery wall (above right), and we like to meet the artists and talk with them about their creations. You don't always get the opportunity to speak with the artist directly, but at Expressions, you might be able to.
We always buy a painting – there is ALWAYS something that really speaks to us. But we've also picked up really unique coasters, candles, pillows, and a really awesome birdhouse. Oh, and my owl necklace (above left).
With all that being said, I am personally inviting you to join my family & me on Saturday, October 5th, from 6 to 8pm at Carey Services. Break out of your comfort zone, do something you've never done before, and meet some really amazing people!