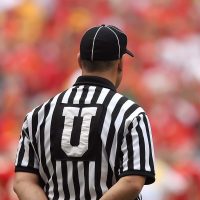 Act your age. That's the message from the Indiana High School Athletic Association to parents attending high school sporting events.
IHSAA Commissioner Bobby Cox talked to WISH-TV in Indianapolis on Wednesday morning about their new campaign this year, cracking down on the angry and violent parents lashing out at officials during high school events.
Because of that, he says they're starting to see a shortage of referees.
According to an article co-written by Cox this month, 80% of high school officials quit two years into the job, citing "unruly parents" as the main reason.