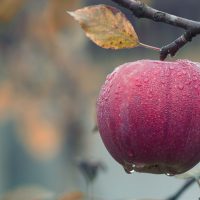 One "bad apple" stole about 20,000 apples from a LaPorte County orchard.
The apples were plucked from more than 30 trees at Williams Orchard in Hesston, reports The South Bend Tribune.
Orchard owner Jon Drummond told police that some of the trees on his 132-acre property were "picked clean from top to bottom."
Police told the Tribune they have a suspect, based on a truck seen at the orchard after closing time on Sept. 18.
The suspect is a man who makes and sells apple cider on the side and, during a recent visit to the orchard, asked if anyone lived in a house on the property, police said. The retail value of the stolen apples was about $27,000.