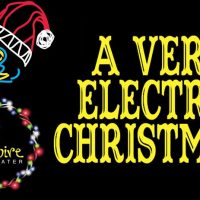 A VERY ELECTRIC CHRISTMAS, welcomed by Star 106.9 – coming to the Paramount Theatre in Anderson, on December 23rd at 7pm. 
WIN YOUR TICKETS 12/6/19 – 12/18/9 from Star 106.9. Listen for the keyword each day to text to the Star 106.9 Text Line 1(800) 765-1069 to enter to win a pair of tickets to the concert. Must be 18 or older to play. Message & data rates may apply.
Lightwire Theater is known for their electroluminescent artistry and poignant storytelling. All ages will enjoy the dazzling visuals and popular music that accompany the story of Max, a young bird making his way south for the winter with his family. After he accidentally ends up at the North Pole, his adventure begins as he encounters caroling worms, dancing poinsettias, Nutcracker soldiers, mischievous mice, and an evil Rat King. $10, $18, $35.
Find ticket information here: https://theandersonparamount.secure.force.com/ticket/#sections_a0F5A00000QXFUzUAP