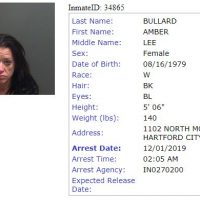 A woman has been charged after striking her friend and stealing $500 in cash, according to Marion Police Department Deputy Chief Stephen Dorsey.
The incident happened just after midnight on Sunday in the 1700 block of W. 10th St. when police were called to a strong-armed robbery.
Fifty-five-year-old Dianna Moon reported that while she was in the restroom, her friend Amber Bullard, 40 entered the bathroom and started striking her with her fist. Moon reported that Bullard began pulling at her purse and broke her strap. Bullard then took possession of the purse, Dorsey said.
Moon reported that Bullard took $500 in cash from her purse, stating that she had just withdrawn the money in order to help Bullard bond out her boyfriend from jail.
Upon obtaining the cash Bullard left the residence.
A short time later Bullard returned to the residence, and upon being confronted by police, turned over $167 and stated that she had just done narcotics, Dorsey added.
Bullard was arrested on the following charges: robbery resulting in bodily injury, a Level 3 Felony and battery resulting in moderate bodily injury, a Level 6 Felony.
Moon sustained a minor cut to her lip and bruising to her face. Moon reported the incident approximately three hours after it occurred.