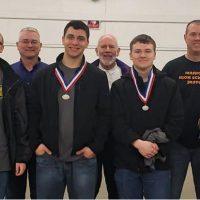 The Marion High School JROTC Precision Air Rifle Marksmanship Team continues to excel and rack up accolades, and they learned over the winter break that they have qualified again for the U.S. Army JROTC National Championship for the fifth year in a row.
Last Saturday, Jan. 11, the Giants earned the Runner-Up State Championship in the Precision category at the Civilian Marksmanship Program's State Championship, sponsored by the Indiana State Rifle and Pistol Associations. There, the Giants faced off against the best Indiana marksmen representing different high schools, youth clubs and individuals — not just other JROTC programs.
At the state competition, cadets Josiah Hamilton, Levi Hofmann, Jaron Hofmann, and Alysa Yancey had to complete the extended match regimen, shooting 20 shots in each of the three positions — prone, standing and kneeling — for a potential individual score of 600.
"Our cadets shot well," said retired Lt. Col. David Farlow, the team coach and Senior Army Instructor for the MHS JROTC program. "But, regrettably, we fell short of winning the championship."
The Giants were bested by a team from Belmont High School in Decatur.
The Giants did have one shooter excel and earn her place on the winners' podium. Marion junior Jillayne Bass, finished fourth in the state overall with a score of 547, and she placed third in both the kneeling and prone positions.
Bass attributes her success to really concentrating on each shot.
"I was so focused on establishing my natural point of aim and rejecting any shots that just didn't feel right," she said. "I just felt so comfortable while shooting."
"Jillayne really stepped it up, focused and executed well during the competition," Farlow said. "Her renewed focus during her practices paid off during this match."
The Giants are one of only 22 Army JROTC marksmanship teams (out of the nearly 2,000 who competed) — and the only one in the state of Indiana — to qualify to advance as a team to the JROTC National Championship in February in Camp Perry, Ohio. It is the fifth year in a row the Giants have advanced to this prestigious national competition.
"I really hoped we would make it to Nationals," MHS senior Josiah Hamilton said. "I didn't qualify to go last year, but really wanted a shot at it my senior year."
Joining him at the JROTC Marksmanship National Championship will be cadets Jillayne Bass, Jaron Hofmann, Levi Hofmann and Alysa Yancey.
This will be the second national competition Hamilton will compete in during his senior year, as he was on the Runner-up National Champion Rader Team in fall 2019, where the Giants compete in the small school category.