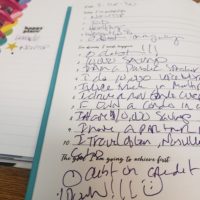 What the heck is a #STDreamcatcher????  My friend thought I got another sidehustle!  Nope, I have written in my Start Today journal from Rachel Hollis(she wrote Girl, Wash Your Face)  I did buy a journal from her store Hollis Co. but it was on sale.  It was so worth it.   Now in saying that you can use any notebook!  You decide what your dreams really are for your life.  I never sat down and thought about where I want my life to go until I had this journal in November.  I'm telling you it was eye opening.  I will tell you my 10 dreams that I'm ready to achieve in the near future. you will notice I say I have already achieved these goals.  The universe will do what you say you already have.  In fact, they've already done it.  You speak into existence what is happening to you.  Your thoughts control your life. I love these books.
1."You Are a Badass" by Jen Sincero.
2. "The Secret"Rhonda Byrne
3. "Girl Wash Your Face" Rachel Hollis
my dreams for the next 10 years.
0 debt.  (just so you know I've already got one credit card down to 0 and have 2 more to go)
I have 10,000 savings
I am a motivational public speaker at multiple events and published writer.
I voice track in multiple out of market radio stations(happened!!!  as of Jan 2020)
I do $10,000 in voice work
I drive a 2019 Honda Civic Ex with no car payment
I own a condo in a great place
I have $10,000 in savings
I have a man(partner) who makes me laugh
I travel often,  I am traveling  to  Cabo,St.Lucia,andNashville
Then you write 5 things you are grateful for today.
new top
job
healthy
weightloss
0 debt on one credit card, the other two by end of April!
This will help you remain positive in these crazy times!

Mandi

Tags: