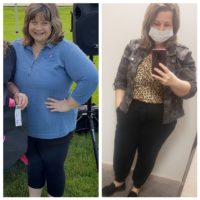 Hey ya'll I'm still doing the 10 pound challenge, something I made up so we would leave quarantine a hot quarantina…lost .5 this week which I will take!  I was craving ice cream again.  So I had a hot fudge  sundae from Culvers.  My stomach hurt!  I had been eating so healthy…it was just too much.  However, two great lessons came with the craving.
a. I didn't eat every thing in my house to try and kill that craving.
b. I realized it's not a good Idea and should have went for no sugar added with a little chocolate syrup
so we move on…
Sometimes you have to indulge to realize what is really good for you.  There are always alternatives as I mentioned in my last post. I find following a lot of weight loss people on Instagram helps A LOT.  I get ideas for food replacements and great recipes.
one more week, you could lose 2 pounds and feel better in your pants!!!!
Mandi 🙂