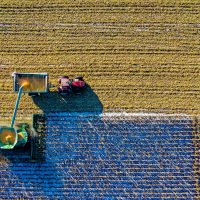 Farming conservation appears to be on the rise in Indiana.
Farmers planted more than one million acres of cover crops in 2018, up 32,000 acres from last year, according to a recent survey by the Indiana State Department of Agriculture.
Cover crops are designed to keep roots in the ground throughout winter, thus improving soil health.
As a result of the cover crops, it's estimated that around 1.3 million tons of sediment was kept out of Indiana's waterways, along with 3.2 million pounds of nitrogen and 1.6 million pounds of phosphorus.
"I'm excited to see this increase in spite of cold wet fall weather that delayed harvest and limited the planting and growth of cover crops in many parts of state," said USDA Natural Resources Conservation Service State Conservationist Jerry Rayner. "We are seeing more farmers using cover crops because they build healthy and productive soils that help with weed suppression, improve water infiltration, cycle nutrients and increase soil organic matter."
Farm conservation seems to be on the rise across the nation as well.
"If you look at where we were a decade ago, major progress has been made," said Indiana State Department of Agriculture Director Bruce Kettler. "Farmers are investing more in conservation, which is particularly significant considering where the farm economy has been for the past five years."
One of those farmers is Mark Anson of Knox County. Anson and his family farm nearly 20,000 acres in southern Indiana and Illinois, and have been incorporating cover crops as part of their management since 2010.
"These past two fall seasons have been difficult to get our cover crops planted because of rain and then the cold weather really limited their growth for us and many other farmers," Anson said. "But, I've seen many benefits in using cover crops on my farm over the past 10 years, so I'm going to continue on the path of healthy soils conservation systems because it is an investment in improving our environment."