Hey!  I thought I'd share some finds (mostly food cause of my inner fat kid) but also some other finds this past month.  I've been struggling with something personal so I was super psyched to find this company Little Words Project where you wear these cute bracelets that remind you to be strong.  I personally purchased EVOLVE because I feel like no matter what mistakes you make YOU can EVOLVE into something magical from it.  You don't have to be defined by the mistake.  Has it made you stronger?  Did the mistake teach you to look at things in a better way? Maybe the mistake made you GRATEFUL for what you already have. And that's  the other bracelet  I  Chose…www.littlewordsproject.com  #notanad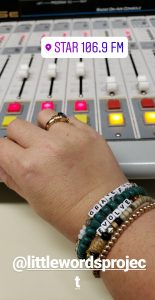 Then I found some yummy snacks at only 2 WW points and only 70 calories!
then  you have to check out Tumaros Wraps for only 60 calories (I found them at Meijer) SO GOOD.   I like Ole Wellness Wraps (Wal Mart) but Tumaros is better for a Mexican flavored meal!
Lastly, I was honored to purchase a Carey Services Painting Saturday.  Each artist gets 60 percent of the profits (how cool) and I get joy every time I look at my bedroom wall! Soon they will sell them online!!! I will let ya know when that happens.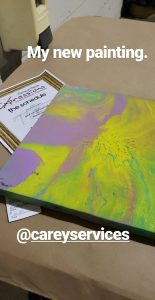 I'll give you my October picks next month!

xo,

Mandi

Tags: