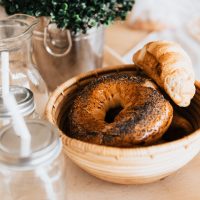 A trailer full of bagels turned to toast when a semi's rear axle caught fire on I-65 in Jasper County Sunday night.
The fire quickly spread to the trailer, burning 38,000 pounds of frozen bagels inside.
Police say the driver of the truck owned by a company in Illinois had failed to release the trailer's rear breaks. The rear tires exploded from the heat.
Firefighters were able to put the fire out. No one was injured.