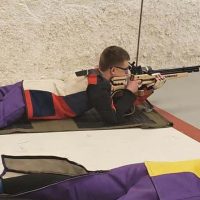 The Marion Giant's JROTC Rifle Marksmanship team battled a veteran team from Concordia High School on Wednesday evening to win their first match of the season, according to an MHS press release.
MHS Senior Josiah Hamilton turned in the highest score of 280 and led the Giants to victory over Concordia, 1079-1065. Teammate Levi Hofmann turned in a perfect score of 100 in the prone position and finished in second place for the Giants.
"It was a solid performance for us at this point in the season," said retired Lt. Col. David Farlow, the team's coach and senior Army instructor for the MHS JROTC program. "But to be competitive going forward we will need continual improvement. I know that our competitors will seek to do so."
The precision category is the same level in which collegiate athletes and Olympians compete. It is the top tier within the air rifle competitive categories.
The rifle competition uses the standardized rules established by the Civilian Marksmanship Program. Cadets fire precision air rifles from three different positions: standing, kneeling, and prone (lying flat on the ground) at targets 33 feet (10 meters) away. The targets are approximately the size of a quarter coin. A mere difference of 1/16th an inch can separate the winner from the loser. The highest possible score is 300.
"I felt like I shot well," said Hamilton. "I had solid scores in both the prone and kneeling positions."
This match also introduced freshman Alysa Yancey in her first rifle match ever.
"Yancey has started off the season very well and was quickly picked to move up to shoot at the precision level," Farlow said. "She has demonstrated a real aptitude for marksmanship. We expect big things from her in the future."
Other members of the Giant's precision team included Jaron Hofmann, Abigail Baird, and Jillayne Bass.
(Pictured: Levi Hofmann)