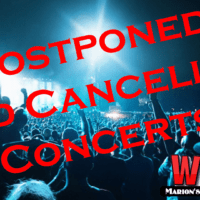 Due to the coronavirus threat and mandates set by the Federal Government there are many concerts cancelled, and your friends at WBAT 1400  are here to help with our list of concerts that have been cancelled due to coronavirus: Resurrection: A Journey Tribute has postponed their concert at the Clyde Theatre that was scheduled for March 21st to May 23rd, A Cappella Live! Has cancelled their March 25th concert  that was also at the Clyde Theatre and will NOT be rescheduling, Candlebox has postponed their concert that was originally scheduled for March 29th now is scheduled for May 31st, Dennis DeYoung's appearance at the Clyde Theatre on April 4th has been rescheduled to October 3rd, Brian Culbertson has postponed his April 15th concert at the Clyde Theatre to a date to be determined, and Bruce Hornsby has postponed his April 16th concert, but he hasn't not rescheduled yet.
For more information, check with your concert venue.
UPDATE: The Historic Embassy Theatre has plans to open the 5th Annual Summer Nights series on Wednesday, May 20. They will follow all guidelines to offer a safe and fun experience.