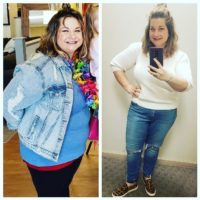 for weightloss because I lost.  I lost.  I ate a WHOLE pan of low fat brownies….not so low fat when you devour the whole darn pan. Here's what I know for sure, life is about BALANCE.  I lost .2 pounds because I ate extremely healthy at meal time.  However snack time got the best of me. Here's what I know for sure.
plan for the snacks and sweets
count EVERYTHING even if you go into the negative
life is about balance, one day off the next day on
drink half your body weight in water
dance to move your body if you don't like exercise
find healthy desserts to make (I will post my apple crisp tomorrow)
myfitnesspal is a free app you can use to count calories and fat!
My riced cauliflower ole recipe

bag frozen riced cauliflower cook in skillet

one onion chopped up

taco seasoning

Rotel tomato chiles

add fresh lime juice and fresh cilantro!

We CAN DO THIS!

dm me on Facebook for more! @mandimichaelsradio

Mandi

Tags: