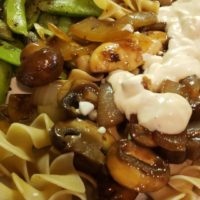 Oh this was amazing.
I did not personally use the oil but used non stick spray
1 tbsp oil plus
1 teaspoon oil, divided
10 ounces boneless skinless chicken breasts cut into 1/2 inch strips
2 cups mushrooms
1 cup onion sliced
1 cup chicken broth low sodium
2 teaspoons flour
3 tablespoons fat free sour cream(I used nf Greek yogurt)
1 teaspoon red wine vinegar (I used apple cider vinegar cause I had it)
1 teaspoon Dijon mustard
1/4 teaspoon pepper
in med skillet heat 2 teaspoons oil add chicken
cover over med high heat stirring frequently until golden brown
remove chicken from skillet set aside
in same skillet heat remaining 2 tsp oil add mushrooms and onion cook stirring frequently until all liquids have evaporated and onion are golden brown
in small bowl with wire whisk, combine broth and flour blending until flour is dissolved; strain and add to skillet. Stirring constantly, bring liquid to a boil over high heat; reduce heat to low.  Simmer 10 minutes, stirring frequently.
stir reserved chicken into broth mixture simmer 5 minutes
remove skillet from heat; stir in sour cream, red win vinegar, mustard and pepper!  (since I have multiple servings I divide sauce per serving and don't mix it in until I'm ready to eat it!
so good, count the chicken and noodles (if you want noodles) everything else will be free on WW.
🙂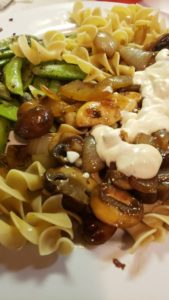 Tags: