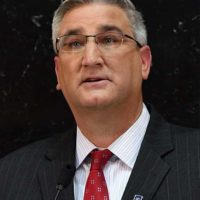 Governor Eric J. Holcomb recently awarded 76 Indiana companies and organizations with the Governor's Century or Half Century Business Award in recognition of each company's longevity and service to its employees, community and the state.
Four of those organizations were in Grant County.
Needham-Storey-Wampner Funeral Service received the Century Award for 128 years of service. Indiana Wesleyan University received the Century Award, after 101 years of service. Afena Federal Credit Union received the Half Century Award for 63 years of service and the United Way of Grant County received the award for 91 years of service.
"It is an honor to recognize Hoosier business leaders who have been creating quality career opportunities for Hoosiers and running their businesses in Indiana for more than 50 or 100 years," Gov. Holcomb said in a press release. "Through a strong dedication to their employees, their businesses and their communities, these companies exemplify the pioneering spirit and perseverance that will keep Indiana on the path to success for centuries to come."

The Governor's Century and Half Century Business Awards ceremony, which was scheduled to occur in spring 2020, was canceled due to the COVID-19 outbreak. This year's award recipients will be invited to participate in the 2021 ceremony.