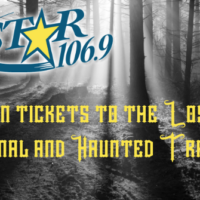 Star and Afena Federal Credit Union want to send you and 3 friends to the Lost Canal and Haunted Trail in Huntington!
Get scared for a good cause as funds raised help out area charities!
Score a 4-pack of tickets to one of the scariest haunts by texting the STAR 106.9 text line at (765) 251-9106.
EVERYDAY THERE WILL BE A DIFFERENT KEYWORD:

Monday- Spooky- (1) 4 pack

Tuesday- Scary (1) 4 pack

Wednesday-Haunted (2) 4 packs

Thursday- Pumpkin (2) 4 packs

Friday- Ghost- (2) 4 packs
Good Luck!