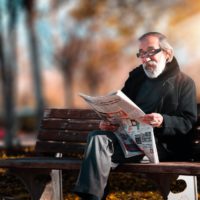 The Echo, Taylor University's student newspaper, captured six first-place awards, seven second-place awards, and one third-place award to finish second in Division 3 of the spring 2021 Indiana Collegiate Press Association (ICPA) contest.
In addition to Taylor, the ICPA's Division 3 includes Anderson University, Goshen College, Manchester College, and Wabash College.
Junior Holly Gaskill won four awards – three firsts and a second. Sophomore Markus Miller also won four individual awards with a first, two seconds, and a third-place award. Additionally, The Echo's editorial board won a second-place award for an op-ed piece.
"The Echo team's recognition at this statewide level is well-deserved," said Dr. Alan Blanchard, Associate Professor of Journalism and the faculty adviser for the newspaper.
"The Echo is made up of great team of students from a variety of majors from across campus," Blanchard added. "The students work very hard creating compelling, interesting stories week in and week out. And the Taylor University community benefits from their creative skills and talents that include writing, editing, photography, graphic design, and more."