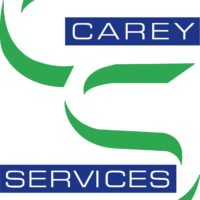 Carey Services has a new look.
According to officials, after getting feedback from external stakeholders, board members, donors, and employees, Carey Services announced new logo branding and a refreshed story.
Every day, Carey Services, Inc. makes a positive difference in the lives of prenatal mothers, children birth to 3 years in early childhood education, and people of all ages with disabilities in North Central Indiana.  Carey Services President and CEO  Jim Allbaugh celebrated the brand change internally and to the Carey Services Board of Directors during the Direct Support Professional Appreciation Week in September. This announcement comes with new branding now being installed on the newly renovated bypass-facing offices across from Lowe's in Marion.
According to a press release, the new colors in the refreshed Carey Services logo include a more modern brighter green that replaces a beige color. A bolder and more updated navy blue replaces a hunter green frame that surrounds "CAREY" and "SERVICES" within the logo "stamp," Allbaugh said. "The following key words bring life to the new colors, and they match our strategies for the coming years: 'Health,' 'Safety,' 'Growth,' 'Progress,' and 'Productivity.'"
The team at Carey Services expressed their excitement about the visual refresh to their brand and logo where the "C" and "S" are woven throughout the new look and the "Carey Services" name. Allbaugh shared his excitement in this visual presentation, explaining, "That winding pattern represents the journey of life that each of us live where there are clear pathways, barriers to overcome, and successes along the way." Carey Services facilitates that "pathway of life" every day for the success of the people they serve and their more than 220 employees.
Carey Services will be rolling out their brand change across their facilities in multiple counties in North Central Indiana in the coming weeks and months.